A few years ago, a group of BDO members revived a lost ceremony of Toad blessing I'd learned about while researching for the British Druid Order's distance learning courses. A reference to it appears in Cotton MS Claudius B VII, a manuscript in the British Library that was assembled from earlier materials for Archbishop Matthew
Parker (1504 - 1575, right). Its contents include (1) legal proceedings; (2) Roger of Howden, Chronicle, (3) Pseudo-Turpin, De gestis Karoli magni; 'Prester John,' Epistola ad Manuelem imperatorem, etc.; (4) extracts made in the time of Matthew Parker; (5) Pseudo-Dares Phrygius, De excidio Troie historia; Geoffrey of Monmouth, Prophetiae Merlini; (6) legal proceedings. It runs to 242 pages, the first half on paper (ff. 2–113), the second on parchment (ff. 1, 114–242).
In 1574, Matthew Parker left a large collection of manuscripts, mainly rescued from former monastic libraries, to his college at Cambridge. The Parker Library at Corpus Christi bears his name and houses most of his collection, with some volumes in the Cambridge University Library. Parker was the college's Master between 1544 and 1553. He also served as chaplain to Anne Boleyn, Vice-Chancellor of Cambridge University, and Archbishop of Canterbury from 1559–1575. He was particularly interested in collecting and preserving manuscripts from Anglo-Saxon England as evidence of an ancient English-speaking church independent of Rome. His bequest to the college consisted of about 480 manuscripts and around 1000 printed books spanning the 6th to the16th centuries.
Section 4 of the MS Claudius B, 'extracts made in the time of Matthew Parker,' includes the following:
"In Oxfordshire on the first day of December each year is celebrated a Feast called the Blessing of the Toad, in which libations are offered to the spirit of that ill-favoured creature which, at that season, does burrow into holes in the earth, there to remain until the sun's increasing light stirs all Nature back to life in springtime. This barbarous custom is of uncertain origin and antiquity but is said by those partaking of it to bring good fortune not only to the toads but also to those humans who engage in this antique revel in their honour. In drinking health to the beast they do cry 'Wassail!' and 'Hail to the Toad!' and other such heathen things as though the words of scripture are to them entirely unknown. In former times it is said that all orders of society, from the wealthiest lords to the lowliest peasant, observed this pagan rite. In latter years, however, it seems confined to the scholars of the colleges of Oxford town itself. Some colleges preserve the dried body of a Toad that is passed from hand to hand around the table while its health is drunk. That otherwise learned men should engage in such an idolatrous practice must surely inflame the sensibilities of all good Christian men."
As a dedicated Cambridge man, Parker perhaps included this passage, the original source of which is not identified, in his 'extracts' because of the poor light he perceived it as casting on the rival scholars of Oxford.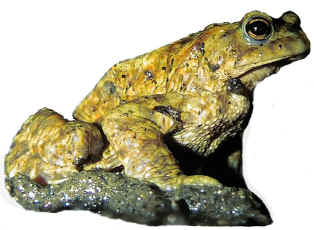 The existence of the feast itself should not come as a surprise since Toad people have figured so strongly and persistently in British and European folklore, belief and practice. There is, for example, the existence in Wales of 'Toad Men,' which I first heard about in a documentary on BBC Radio 4 in the 1980s. As described in the program, the prospective Toad Man had to bury a dead Toad person in a hidden place until only the bare bones were left. Gathering those together and keeping them tightly in his hand, he sat atop a prehistoric burial mound for a whole day and night. At sunrise, he took the bones to a fast-flowing river or stream into which they were cast. All but one would be drawn downstream by the current. The one that floated against the current was caught and kept about the person. Its possession gave the owner power over all animals and entitled him to be known as a Toad Man. I subsequently found an almost identical rite existing in Germany.

Toads regularly feature as 'familiars' in the Witch trials of the early modern era. Mummified Toad people are sometimes found secreted in old buildings where they presumably acted as spirit guardians. The Boscastle Museum of Witchcraft has a number of them in its collection, though some were sadly lost in the flood of 2004. Then there's the Toadstone, a jewel supposedly found in the skull of the Toad that offered protection to its owner.
Since the 16th century, Toads have been reported found alive encased in flint nodules, lumps of coal or other stones, some millions of years old. Experiments have shown that Toads can survive in small cavities inside plaster or limestone blocks for up to three years.
A ceremonial celebration of these remarkable creatures seemed well worth reviving and so we did, at Wild Ways in Shropshire during a feast held on December 1st, 2018. Elaine, our host, had a mummified Toad which was reverently passed around the table as we drank toasts to the Toad and bid it Wassail.
Our ceremony was evidently effective as several of those present, myself included, saw toads in the days immediately following. First was Adam who, while driving home that night, was amazed to see a huge Toad person, the largest he'd ever seen, leap across the road in the beam of his headlights. I saw a Toad the following day outside the front of the house where the feast was held. Three other celebrants had Toad encounters either that day or the next.
So, Hail the Toad! Wassail!
Greywolf /|\