Rye Grammar School was not a good place in which to be a hippy in that halcyon summer of 1967. While Dr. Timothy Leary, the high priest of LSD, was in the USA, encouraging the world to "turn on, tune in, drop out," A. L. F. Buttery, the Old Etonian headmaster of my very English school, was telling me that "there is no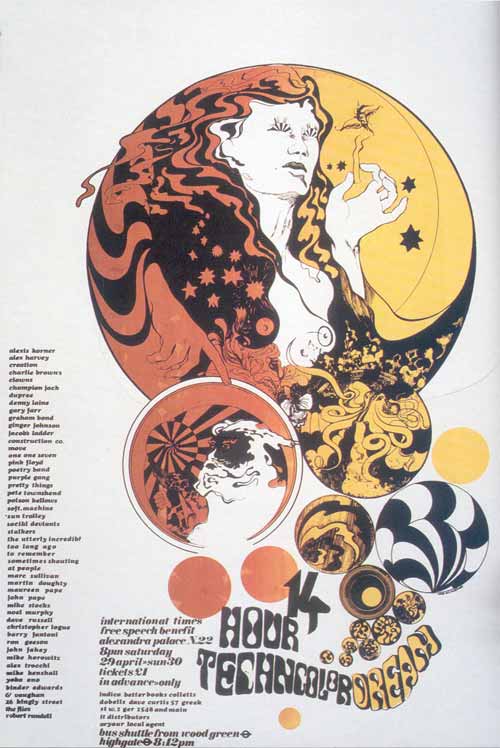 room in an institution like a school for individuals." While love-ins and be-ins flourished in San Francisco and 'swinging London' was enjoying the 14-Hour Technicolour Dream, the little town of Rye in Sussex remained a sleepy Tory backwater, rife with bigotry, prejudice and hypocrisy, and full of boys around my age who would, within a year, be proudly calling themselves skinheads. I was barred from the newsagents in Rye because I had long hair. The same social stigmata meant that I was frequently stopped by the police in Rye if I went out wearing anything other than school uniform. That certainly included the psychedelic shirt I made by taking a discarded white shirt of my father's and painting huge, brilliantly coloured flowers on it with felt-tip pens. I took to going barefoot and sitting on floors rather than chairs too. None of which endeared me to my parents, teachers or peers.
By 1967, I had been a pacifist for ten years. This came from watching playground fights between individuals or gangs of boys during my first year at primary school. I saw that the only results were that one or more children got hurt and fresh enmity and resentment were caused. Even at the age of four, it didn't take much of a leap of the imagination to see wars as playground fights writ large, the difference being only the scale and severity of the casualties. Since I could see no positive outcomes to fighting, only negatives, I determined that I would never take part in acts of violence, a position I have maintained ever since.
I made sure I passed my 11 Plus exam so that I would go to the local Grammar School rather than the Secondary Modern because I assumed that children attending the Grammar School would be sufficiently intelligent to share my view of violence. I could scarcely have been more wrong. Whereas the Secondary Modern School had a liberal-minded headmaster, Mr. Rothwell, who employed like-minded staff and genuinely took an interest in encouraging pupils academically, Mr.
Buttery's overwhelming interest was cricket. If you were good at cricket, you were in for an easy ride. Not only was I not good at cricket, I found it, as I still do, perhaps the most tedious team game ever devised by humankind. ALF and I were never destined to get on. Worse than that, the Grammar School encouraged, or at least tolerated, two forms of institutionalised bullying.
Attached to the school was Leasom House Farm. Parents who wanted a Grammar School education for their children who had failed the 11 Plus could buy it by sending them as boarders to Leasom House. It also meant they were completely rid of their children during term time and could get on with their lives unencumbered. The bitter resentment this fuelled was exorcised by bullying day pupils, a sport indulged in by virtually every Leasom House boy. If there happened to be anything a little unusual about you, you were picked out for special attention and bullied on a daily basis. This applied to pupils who wore glasses, suffered from asthma, or, in my case, had long hair, a deep objection to wearing school uniform and was a pacifist. Discovering the latter was taken by the bullies as carte blanche to bully me as much as they liked, knowing I would never hit back. Fortunately, I was a lot more intelligent than the bullies and therefore able to talk my way out of most potential violence.
A lot of the bullying directed against me came not from fellow pupils, however, but from teachers. The Grammar School seemed to attract teachers with a pathological hatred of children, especially ones who were unusually bright and questioned
authority. Think Lindsay Anderson's If... Slaps round the head were daily occurrences, being caned across the hand less frequent. There was a history teacher whose methods ranged from the casual slap across the back of the head, through twisting and pulling the hair by the ear to nipple-twisting, the latter being particularly excruciating. The PE teacher preferred to administer punishment with one of his large plimsolls rather than the flat of his hand. On cross country runs, he would 'encourage' asthmatic children over farm gates by whacking them across the buttocks with this item of footwear. I think it was in 1967 that this man pinned me to the wall in a corridor, put his face close to mind and asked, "Don't you mind people thinking you're a freak?" I replied, "No, sir. I am one." This confused him so much that he let me go without another word.
The environment in which I experienced the Summer of Love was thus one of daily brutality five days a week, alleviated at weekends by taking the train to Hastings and roaming its back streets or seafront alone. There too, I was often stopped by the police for being in possession of long hair without a license. Since my father was around at weekends, I got out of the house as much as possible. He objected strongly to my long hair, weird attitudes and interest in music and art. He regarded them, and me, as a waste of space, and told me so whenever the opportunity presented itself.
Despite, or possibly because of, the tribulations of home and school, I drew huge comfort from what was happening in the rest of the world, fed to me through newspapers, the radio, television and, perhaps most importantly, through the music of the time. I had been a Beatles fan since the release of 'Love Me Do' in 1962 and had watched them develop from loveable Liverpudlian mop-tops into thoughtful individuals who were one of the driving forces of popular culture worldwide. August 1966 saw the release of the 'Revolver' album, featuring the deeply psychedelic tracks, 'I'm Only Sleeping,' 'Love You To,' and the awesome, 'Tomorrow Never Knows,' an aural
assault unlike anything put on vinyl before, with its dreamlike lyrics, backward tape loops and sitar all merging into a rolling, crashing wave of sound. "Turn off your mind, relax and float downstream – it is not dying..."

Along with the Rolling Stones' 'Paint It Black' and '19th Nervous Breakdown,' the Yardbirds' 'Shapes of Things,' the Beatles' 'Rain/Paperback Writer' and others, here was a new music that demanded you not just listen to it but to immerse yourself within it and be swept along by it to other head spaces. To my ears and mind, it was utterly beautiful, magical and transcendant.

1967 kicked off with the Beach Boys' extraordinary 'Good Vibrations' riding high in the UK singles chart: "When I look into her eyes, she goes with me to a blossom world..." The chart for late January that year also included Cat Stevens' 'Matthew and Son,' the Jimi Hendrix Experience's 'Hey Joe,' Cream's 'I Feel Free,' and Donovan's 'Sunshine Superman.' Yep, there was definitely something in the air, and it was being beamed into my ear via a little transistor radio tuned to pirate Radio Caroline.

Caroline played stuff you never heard elsewhere, with the noble exception of John Peel's Perfumed Garden show on Radio London. It was on Caroline that I heard three singles that, for me, still encapsulate the English Summer of Love. One was Nirvana's 'Tiny Goddess,' released in July. That was followed in September by Les Fleur de Lys' 'I Can See A Light.' The third was again by Nirvana, and called 'Pentecost Hotel.' All three have a dreamlike quality that lifted me into a beautiful place back then, and continue to do so now.



These bands, and others of the period, were clearly beginning to realise that music has the ability not only to move the emotions, effecting hearts and minds, but to actually shift the consciousness of the listener. How conscious this was on the part of the musicians, I don't know, but it certainly produced some of the most extraordinary music of my lifetime.
The apotheosis of the music of that golden era was, of course, the Beatles' 'Sergeant Pepper's Lonely Hearts Club Band,' released on June 1st, 1967. I first heard it, weirdly enough, at my school, which happened to have an open day that coincided with the album's release. I was too poor to afford full-priced albums, but a WWII bomb shelter in the school grounds had been converted into a sort of psychedelic dungeon for the day, complete with primitive light show, a 6th former had brought in a copy of Sgt. Pepper, and the first chords of the album were sounding just as I wandered in to see what was happening. I stayed to listen to the whole of both sides, culminating in one of the most famous piano chords on record, reverberating like a nuclear explosion at the close of a psychedelic trip set to music. I was dumbfounded. I could barely speak.
John Peel's Perfumed Garden show was another oasis of bliss. Broadcast from 12 midnight until 2 o'clock in the morning, I used to listen to it under the covers with the little transistor radio clamped to my ear. It was not just the album tracks, or
whole albums that Peel played, by Pink Floyd, Bob Dylan and the rest, it was the poetry readings from Roger McGough, the Winnie-the-Pooh stories Peel read between tracks, the references to the Dibblers who sat on toadstool seats and just the whole atmosphere of magical wonder conjured during those two hour sessions. This, of course, came to an end on August 14th, 1967, when Harold Wilson's Labour government shamefully introduced the Marine Offences Broadcasting Act that made the pirate radio stations illegal and led to the BBC setting up it's insipid, tightly regulated, Radio 1 as an extremely poor substitute.
Perhaps my reaction to what was happening in music and popular culture at the time was partly driven by the circumstances I was living with. We lived in poverty, in a shack with a leaky roof and cracks in the walls where, for the first years of my life, we didn't even have running water, relying instead on a rain tank in the garden. Bullied on a daily basis by teachers and fellow pupils, my father adding his unconcealed dislike of me to the mix at weekends, it was hardly surprising I should look for any avenue of escape that was offered and, given my proclivities, music, art and literature were obvious ones to latch onto.
It was more than that though. My innate pacifism gave me an automatic sympathy with the message of 'peace and love' that was in the air, and with the growing global protests against the American war in Vietnam. It was more than that too. Since early childhood, I had been fascinated by the concept of other worlds beyond the physical. This was spurred by disturbing visions I had in the state between waking and sleeping, by vivid, often terrifying, dreams, and by a strong sense that there were discarnate entities all around us that were capable of interfering in our lives. Whenever I tried to speak of these things to anyone, they dismissed them as over-vivid imagination and, more often than not, warned me that to take an interest in them was unhealthy and probably a sign of madness.
My first signs of possible salvation came from American comic books. I was lucky enough to discover Jack Kirby's work for Marvel Comics about a month before the debut of 'The Fantastic Four' in 1961. The FF acted like a family should, rather than like mine actually did. Sure, they had fights, but they were quickly forgotten and, when the chips were down, they were always there for each other. Kirby debuted his take on Norse mythology in 1962 in the pages of 'Journey Into Mystery' where he introduced us to 'The Mighty Thor.' This gave me my first glimpse of
paganism. Things heated up considerably when Kirby starting producing full-page portraits of Odin, the All-Father. Unlike the Christian God, who seemed both nebulous and mean-spirited, Kirby's Odin was a god of stocky build and awesome power and presence, yet forgiving of his children and not the least prone to unleashing plagues on entire populations. By 1967, I had begun to pray to Thor every Thursday morning, and to ask him to send cooling breezes whenever it got too hot when we were excused classes to watch cricket matches or, in my case, to surreptitiously read a book while supposedly watching cricket matches. He always obliged, providing my first indication that pagan gods are real (whatever 'real' means).
July, 1963, saw the first appearance of Doctor Stephen Strange in 'Strange Tales' 110, created by Steve Ditko and Stan Lee, based on an earlier character, Dr. Droom, created by Jack Kirby. No one drew other worlds like Steve Ditko, and those he conjured up for Dr. Strange were my first indication that there might be other people in this world who shared my interest in exploring these realms that existed
alongside our own. The good Doctor himself learned how to project his astral body by studying with an ancient sage in the Himalayas. Since I frequently used to fall out of my body whilst trying to get to sleep at night, I found this particularly interesting. Given the bizarre experiences I had as a child, the fact that Strange handled similar weird forces with the aid of magic was both inspiring and hugely encouraging, as was the fact that he could move in and out of alternate dimensions at will. By 1967, his stories were being handled by another excellent artist, Marie Severin, and the tales remained as cosmic as ever.
Through comic books first, and then through music, I realised I was not completely alone, and perhaps not even entirely insane. In 1967 in particular, the blanket coverage given in the media to the hippy movement gave me the feeling that, far from being alone, I was actually part of a world-wide revolution drawing the world away from war, authoritarianism and hatred, towards a peaceful anarchy in which people exchanged flowers rather than bullets and made love, not war.
On first hearing Sgt. Pepper, I was particularly impressed by the George Harrison track, 'Within You, Without You,' so much so that I bought a budget priced LP of Indian classical music and began to explore Hindu philosophy, so far as limited resources allowed. This track, perhaps more than any other, in combination with what I had gleaned from the Mighty Thor and Doctor Strange, pitched me headlong into the spiritual exploration that was to become the keystone of my entire existence, leading ultimately to founding the British Druid Order.
The very real sense of being part of a global community founded on peace and love enabled me to survive the abysmal days at Rye Grammar School and the painful tensions of home life, and gave me the confidence to walk out of both in the middle of the spring term of 1969. By then I had discovered The Incredible String Band and the mingled joys and sorrows of sex and drugs, but that's another story. In the summer of '67, it was enough simply to know that I was not alone but that there were many, perhaps hundreds of thousands, maybe even millions of people in the world who saw life in much the same way as I did…
It was a time of unbounded optimism, when anything seemed possible, even that love might conquer the world, causing coercive governments to fall and peaceful cooperation between people take their place. It saddens me when, as now, large parts of the world seem strangely bent on sliding back into repressive authoritarianism, fuelled by paranoia, as we are increasingly under surveillance by our own governments, while those same governments seek to persuade us that all our problems are caused by external agencies, and where Western democracy, always something of a sham, has become both a laughing stock and a reason to weep.
And yet, despite Trump, Brexit, Daesh, Front Nationale, AfD and all the rest, the music, art and literature of the late 60s, and of 1967 in particular, still speaks to my heart across the decades bringing joy, a sense of wonder, and renewed optimism. Let us, therefore, continue to sing, speak, and make art, music and literature to convey the message of peace and love to the world because, as George Harrison sang, "with our love, we could save the world, if they only knew."